Sheikh Khalid Bin Sultan Bin Mohammad Al Qasimi, son of His Highness Dr Shaikh Sultan Bin Mohammad Al Qasimi, Supreme Council Member and Ruler of Sharjah, passed away on July 1 in the United Kingdom.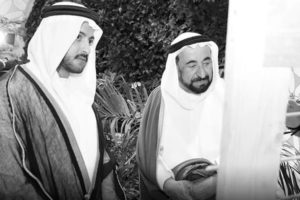 According to an official statement, President His Highness Sheikh Khalifa ordered for the UAE flag to be flown at half-mast across the country, and declared a three-day mourning period.
Sheikh Khalid learned from the lessons of life and experiences that his father experienced. He followed his father in building a unique identity for the emirate that combined heritage, modernity, culture and science.
Sheikh Khalid, who was the chairman of the Sharjah Urban Planning Council, took the responsibility to transform Sharjah's strategies and plans into reality.
Sheikh Khalid Al Qasimi was a London-based fashion designer. He was born in Sharjah, UAE. He moved to the United Kingdom at the age of nine.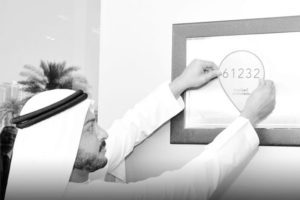 He was educated at Tonbridge School, where he was awarded an art scholarship upon entry, and went on to read French and Spanish at University College London, subsequently completing a degree in Architectural Studies at the Association School of Architecture (AA).
It was here, learning the craft of designing buildings, that he found his true vocation: designing clothes. He moved to Central Saint Martins, winning a place on the college's prestigious BA Womenswear course, and launching his label "Qasimi" several years later in 2008. His brand "Qasimi" is centred around the idea of an urban nomad. It was founded in 2016, the brand is built upon four pillars: architecture, colour, military and messaging.
"His goal was to create 'a world of beautifully crafted products infused with cultural, social and political undertones to inform and inspire'. The design world has lost a great philosopher and artist," said an official statement said.
إنا لله وإنا إليه راجعون ..حكام #الشارقة و #عجمان و #أم_القيوين و #رأس_الخيمة والشيوخ يؤدون صلاة الجنازة على جثمان المغفور له بإذن الله #الشيخ_خالد_بن_سلطان_القاسمي في مسجد الملك فيصل بالشارقة.#الشارقة_للأخبار #الإمارات #الشيخ_خالد_بن_سلطان_بن_محمد_القاسمي_في_ذمة_الله pic.twitter.com/OsGwrriZtU

— الشارقة للأخبار (@Sharjahnews) July 3, 2019
The Crown Prince and second son of the Emir of Sharjah founded an eponymous fashion brand in 2016 and had shown collections at London and Paris Fashion weeks, The Telegraph report said.
Three days of mourning have been announced in the United Arab emirate following the death of the "great philosopher and artist" in the UK, the report said.
As father, Sheikh Sultan expressed his sorrow in an Instagram post on Tuesday, saying his son was "in the care of God".
The President of the UAE and ruler of Abu Dhabi, Sheikh Khalifa bin Zayed Al Nahyan, offered his condolences to Sheikh Sultan and his family.
اللهم ياحنان يا منان يا واسع الغفران اغفر لـ #خالد_بن_سلطان وارحمه واعف عنه وأكرم نزله ووسع مدخله وأغسله بالماء والثلج وبالبرد ونقه من الذنوب والخطايا كما ينقى الثوب الأبيض من الدنس اللهم املأ قبره بالرضا والنور والفسحة والسرور.#الشيخ_خالد_بن_سلطان_بن_محمد_القاسمي pic.twitter.com/FOO1ABQQJL

— تلفزيون الشارقة (@SharjahTV) July 3, 2019
Sheikh Khalid had been "praised for his tenacious yet sensitive exploration of social-political issues, particularly those pertaining to the Middle East and its sometimes strained relationship with the West".
According to the fashion label, he had studied fashion design at Central Saint Martins in London, and released his first collections in 2008.
A friend – who did not want to be named – said Sheikh Khalid studied at the Architectural Association and was "very talented, incredibly smart" and "incredibly passionate about human rights".
"He loved life, very outgoing," the friend added. "A very kind and generous person as well. He didn't care too much about ego – he could have, but he didn't."
Several people have shared their grief at the news on social media, including fashion photographer Mariano Vivanco who called him "my angel".