Ruby Sahota, Member of Parliament for Canada's Brampton North, recently said that the process of spouse sponsorship by the Government of Canada had significantly improved over the past year, helping Canadians and permanent residents to reunite faster with their spouses.
"When I opened my office in Brampton North, I had constituents waiting over two years to be reunited with their spouse. I am proud to have been a  ble to raise this concern in Ottawa and work with the Minister and the Government to improve the process and reunite spouses faster under a more efficient and easier to navigate process," Ruby was quoted as saying by India Blooms.
Jandali, India – Day 2: Overwhelmed by the love shown by Indians in my father's village. This unconditional love originates from friendships bolstered by strong people to people & cultural tie, and a long history of cooperation that our government is committed to strengthening. pic.twitter.com/15oA8gjEFx

— Ruby Sahota (@MPRubySahota) February 19, 2018
Immigration, Refugees and Citizenship Canada (IRCC) had announced in Dec 2016  that the backlog of spousal applicants would  be reduced  by 80 percent and shorten processing times to 12 months.
IRCC also announced that sponsorship application process would reportedly become more efficient and easier to navigate.
More than 80 percent of applications in the global spousal sponsorship backlog on Dec. 2016 have now received final decisions for their applications. IRCC has also reportedly been successful in reducing the spousal inventory from 75,000 applications to 15,000 as of Dec 31, 2017, reports said.
Ruby Sahota, a senior member of a delegation led by Canadian PM Justin Trudeau, had earlier said the main aim of the ensuing visit was to strengthen bonds among people of the two countries, besides promoting cultural exchange.
"We are glad that our Prime Minister Justin Trudeau had fixed top priority for strengthening ties among citizens of both countries having multiracial population," she was quoted as saying by The Tribune.
Ruby has cautioned that Punjabi youths should not fall prey to sinister designs of fraudulent travel agents. She also warned against organising marriages in haste in expectation of greener pastures abroad.
Narrating incidents from her own life, Ruby Sahota maintained that persistent and intensive labour was the only key to success at levels in Canada and other western countries.
About Ruby Sahota
She is a Canadian Liberal politician who was elected as a Member of Parliament in the House of Commons of Canada to represent the federal riding Brampton North during the 2015 Canadian federal election.
Ruby was born in Toronto after her parents arrived in Canada in the late 1970s, and was raised in Brampton. Her father previously was the Chairman of the Ontario Sikhs and Gurdwara Council.
She attended the Brampton's Central Peel Secondary School (1993-8), and then graduated with an Honours bachelor's degree in Political Science and Peace Studies at McMaster University (1998-2003) before attending Western Michigan University Cooley Law School.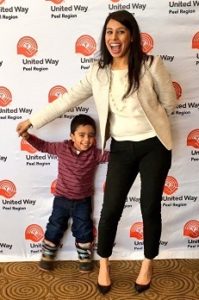 Ruby practiced law for five years prior to her election to the House of Commons. Sahota sought the Liberal nomination for the newly created riding of Brampton North, winning it on March 1, 2015.
The general election campaign involved some controversy, as Ruby's campaign criticized leaflets circulated by her opponent, Conservative incumbent Parm Gill, which it was alleged were deliberately aimed at confusing Sahota with previous Liberal Party MP Ruby Dhalla. She defeated Gill to win the election.
Once elected, Ruby Sahota was appointed to both the Standing Committee on the Status of Women and the Standing Committee on Procedure and House Affairs. She was subsequently named to the Special Committee on Electoral Reform. On February 1, 2017, she was elected Chair of the Federal Liberal Ontario Caucus by her peers. As Caucus Chair, she presides over meetings, lead discussion and act as an important link between Ontario Liberal MPs and the Prime Minister's Office and Cabinet.
She is married to Dr. Tejinder Sahota, and has a son named Nihal.
Today we welcome the Year of the Dog! Happy New Year to you and your family! #LunarNewYear2018 pic.twitter.com/fI5vHaOIpU

— Ruby Sahota (@MPRubySahota) February 16, 2018