Dravidian icon and DMK chief Muthuvel Karunanidhi took his final resting place alongside Jayalalithaa, DMK founder CN Annadurai and MGR at the Marina beach after his family members, political leaders from across the spectrum and a sea of supporters bid him a teary farewell in Chennai. Draped in a tricolour, the five-time chief minister was taken for his burial in an open procession.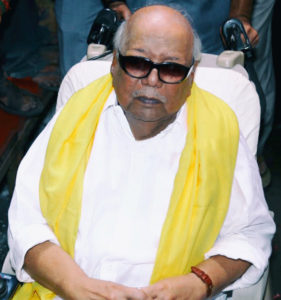 Karunanidhi – who died on August 7, 2018 at Kauvery Hospital in Chennai after prolonged age-related illness — was an Indian writer and politician who served as Chief Minister of Tamil Nadu for almost two decades over five terms between 1969 and 2011. He was a long-standing leader of the Dravidian movement and 10-time president of the Dravida Munnetra Kazhagam political party. Before entering politics he worked in the Tamil film industry as a screenwriter. He also made contributions to Tamil literature, having written stories, plays, novels, and a multiple-volume memoir. He was popularly referred to as Kalaignar, meaning artist in Tamil.
Born in Thirukkuvalai village in Nagapattinam district on June 3, 1924, he was born as a son of Muthuvelu and Anju. Karunanidhi was more interested in drama, poetry, and literature during his school season. Karunanidhi, who was inspired by the speaker Azhagirisamy, considered the pillar of the Justice Party, completely engaged in social movements at his 14th age. With the help of some of his students in the field of youth, the "youth revitalized the organization". The organization helped young people develop their inspiration and writing. After some time, the state was formed as a state-level "All Students Club." This was the first student division of the Dravidian movement.
Karunanidhi also engaged the student community in social work with other members. DMK The party's official newspaper, Murasoli, started developing a newspaper for its members. The first major opposition to Karunanidhi's support for Tamil politics involved in the Kallukudi demonstration (1953). The original name of this industrial city is Kallagudi. Dalmiya, which set up a cement plant is from North India and changed the original name Kallakkudi to Dalmiyapuram. DMK opposed the name change as it was seen as North Indian oppression of Tamil Nadu. Karunanidhi and his comrades posted papers on the name "Dalmiyaapuram" in the railway station name board and block the passage of the trains. Two people died in the demonstration by the police action and Karunanidhi was arrested.
Karunanidhi married three times. His first wife was Padmavathi and they had a son M. K. Muthu, who was briefly active in Tamil films and politics. Padmavathi died early, and Karunanidhi married Dayalu Ammal with whom he had three sons, M. K. Alagiri, M. K. Stalin and M. K. Tamilarasu, and a daughter, M. K. Selvi. Alagiri and Stalin are active in state politics and competed to be their father's political successors, before Stalin prevailed. Tamilarasu is a businessman and film-producer and campaigner for his father and his party; Selvi campaigned for Karunanidhi elections too. With his third wife, Rajathi Ammal, Karunanidhi had a daughter, Kanimozhi, who is seen as his literary heir.
Joining politics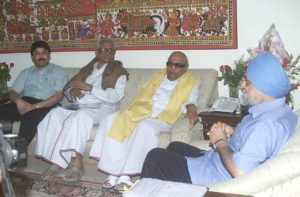 Karunanidhi entered politics at the age of 14, inspired by a speech by Alagiriswamii of the Justice Party, and participated in Anti-Hindi agitations. He founded an organisation for the local youth of his locality. He circulated a handwritten newspaper called Manavar Nesan to its members. Later he founded a student organisation called Tamil Nadu Tamil Manavar Mandram, which was the first student wing of the Dravidan Movement. Karunanidhi involved himself and the student community in social work with other members. Here he started a newspaper for its members, which grew into Murasoli, the DMK party's official newspaper.
The first major protest that aided Karunanidhi in gaining ground in Tamil politics was his involvement in the Kallakudi agitation in Kallakudi. Original name of this industrial town was Kallakudi and it was changed to Dalmiapuram after a cement mogul who built a cement plant there. DMK wanted to change the name back to Kallakudi. In the protest Karunanidhi and his companions erased the name Dalmiapuram from the railway station and lay down on the tracks blocking the course of trains. Two people died in the protest and Karunanidhi was arrested.
At the age of 33, Karunanidhi entered the Tamil Nadu assembly by winning the Kulithalai seat in the 1957 election. He became the DMK treasurer in 1961 and deputy leader of opposition in the state assembly in the year 1962 and when the DMK came to power in 1967, he became the Minister for Public Works.
When Annadurai expired in 1969, Karunanidhi became the Chief Minister of Tamil Nadu and the first leader of DMK, since the leader post was customarily left vacant for Periyar during Annadurai time as Annadurai was party general secretary only. He has held various positions in the party and government during his long career in Tamil Nadu political arena.
Emergency
During the Emergency, the DMK was the only ruling party across India that opposed the Emergency, for which his government was summarily dismissed by Indira Gandhi's government and many of his party leaders were arrested and jailed till the Emergency was lifted. Later, the D.M.K teamed up with the Janata Party post-Emergency, but suffered defeat at the assembly elections under accusations of corruption .
His one time friend M. G. Ramachandran, who floated his AIADMK party after being sacked by Karunanidhi from DMK a few years earlier, would come to power in Tamil Nadu. The DMK then suffered multiple electoral defeats against his primary opponent M.G.Ramachandran's AIADMK, until the latter's death in 1987.
A script writer par excellence

A script writer par excellence, M Karunanidhi began penning scripts for plays as a 20-year-old, his works becoming a vehicle for propagating the principles of the Dravidian movement. Age did not wither his pithy prose and as he crossed 90, he wrote his last script for a television serial based on reformist Hindu saint Ramanuja, who strove for an egalitarian society.

Scripting dialogues for the television soap based on the 11-th century Vaishnavite saint in 2015, Karunanidhi had praised the saint for throwing his weight behind the oppressed and backward classes. A voracious reader and prolific writer, Karunanidhi took a keen interest in Tamil literature, poetry and drama and even as a 20-year-old had enacted a reformist drama "Pazhaniappan.'

As a teenager, he ran a handwritten magazine "Manava Nesan" in 1941. In 1947, Karunanidhi wrote the screenplay and dialogue for the blockbuster 'Rajakumari', the debut movie of M G Ramachandran, who later became his arch political rival and founded AIADMK.

Little did he know that his dialogues in 'Parasakthi' (1952), which debutant 'Sivaji' Ganesan delivered with panache, would become a big hit and aid in catapulting his political career as well. Besides a host of plays like 'Manimagudam', he has penned screenplays and dialogues for over 50 movies and scripted the story for several of them.

'Manohara' (1954), 'Malaikallan' (1954), 'Rangon Radha' (1956) were among the movies in which he was involved as a screenwriter. In addition to penning dialogues, he had also written stories for movies, including successful films like 'Marudanattu Ilavarasi', 'Mandiri Kumari (both 1950), Tirumbipar (1953) and Arasilangkumari (1961).

'Mani Makudam', 'Marakka Mudiyuma', 'Avan Pithana', 'Pookkari' and 'Needhikku Thandanai' were among his several other movies.

A noted Tamil author, Karunanidhi has over 100 works to his credit, including poems and novels. His novels include Romapuri Pandian, Thenpandi Singam, Nenjukku Needhi (his autobiography and commentary on contemporary politics), Sanga Thamizh, Kuraloviam, Ponnar Shankar, Thirukkural Urai. His stage plays include 'Manimagudam', 'Ore Ratham', 'Thooku Medai,' 'Kagithapoo' and 'Silapathikarum.'
After a brief stint as Chief Minister during the late 1980s, (his government was dismissed by the Central government on accusations of degrading the law and order situation in the state after Rajiv Gandhi's assassination), Karunanidhi became the CM of Tamil Nadu in 1996 following a sweeping electoral win in the preceding elections. Following a five-year rule, his party again lost at the elections to J. Jayalalithaa's AIADMK in 2001.
He was however back in power when he took over as chief Minister of Tamil Nadu on 13 May 2006 after his coalition defeated his main opponent J. Jayalalithaa in the May 2006 elections. At the end of the 5-year administration, the DMK lost the majority of seats in the legislative assembly of Tamil Nadu when elections were held in 2011, thereby ceding power again to the AIADMK under J. Jayalalithaa. During the 2016 closely fought elections DMK narrowly lost seats against J. Jayalalithaa's AIADMK.
Before his death, he was representing the constituency of Tiruvarur in the Tamil Nadu state Legislative Assembly. He has been elected to the Tamil Nadu Legislative Assembly 13 times (from 1957 to 2016 elections) and once to the now abolished Tamil Nadu Legislative Council.
He delivered the special address on the inaugural day of 3rd World Tamil Conference held in Paris in 1970, and also on the inaugural day of 6th World Tamil Conference held in Kuala Lumpur (Malaysia) in 1987. He penned the song "Semmozhiyaana Tamizh Mozhiyaam", the official theme song for the World Classical Tamil Conference 2010, that was set to tune by A. R. Rahman. 'Ulaga Tamizh Manadu' [ World Tamil Conference ], was the first coined word for the conference in 2010, however the IATR organisation that had right to conduct the conference was not happy hence change in name.
Illness led to death
Karunanidhi was in poor health from October 2016 and minimized his political activities and public appearances, with the last one being on his 94th birthday on 3 June 2018. On 28 July 2018, Karunanidhi's health deteriorated and became "extremely critical and unstable", and he was admitted at Kauvery Hospital in Chennai for treatment. He died there at 6:10 p.m. on 7 August 2018 due to age-related illness, which led to multiple organ failure.
The government of Tamil Nadu declared a public holiday on 8 August 2018 and a seven-day mourning after Karunanidhi's death. A national mourning on 8 August 2018 was announced by the government of India. The national flag flew half-mast in Delhi, all state capitals and across Tamil Nadu on 8 August 2018. The governments of Karnataka and Bihar announced one-day and two-days state mourning respectively.