Italy went to election on March 4, 2018, amid speculation that Silvio Berlusconi – a man who has already served as the country's prime minister at least three times – would emerge at least a kingmaker, if not an outright winner.
Either way, Berlusconi would be making a comeback from what would otherwise have been some career-ending allegations against the heads of states of any other developed or developing country. Corruption aside, Berlusconi has had some very public brushes with sexual scandals, that would have ended the political ambitions of many others.
And yet Berlusconi has managed to make a comeback to the political scene of Italy, which alone speaks volumes about his tenacity as a politician. Then again, this election was being held to elect the 65th government of Italy in a little more than seven decades. So you may be forgiven for forgetting who is who, especially because one of the major parties in the fray was started as a joke eight years ago by a comedian named Beppe Grillo, who has since turned to politics.
But, back to Berlusconi, and he is looking increasingly likely to leave a mark in the current election. And thqat brings us ton our big question.
Who is Silvio Berlusconi?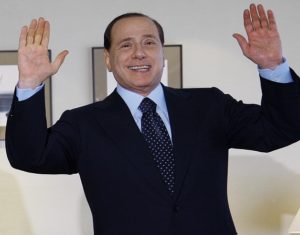 Born in a middle-class family in Milan in 1936, Berlusconi has gone on to become the longest-serving prime minister of Italy since the end of World War II in 1945.
A graduate in advertising law, Berlusconi also learnt to be a bass player – an experience that would lead him to compose an anthem for football club AC Milan, which he owned from 1986 to 2017. He also composed the anthem for political party Forza Italia, which he represents right now.
Berlusconi was married twice, but both marriages ended in divorce. He has a total of five children from the two women. He is believed to be currently living with Francesca Pascale, who is almost one-third his age.
Before entering active politics in 1994, Brlusconi made a name for himself as a media magnate by starting TeleMilanon in 1973 and going on to expand to Fininvest in 1978. He would go on to create what has since been the only media empire in Italy.
Corruption and other charges
The belief in certain journalistic circles is that while Berlusconi may have made his fortune through Fininvest, he kept it using his political career. Berlusconi has often been accused of passing laws that benefited either him or people as rich as him.
There have also been numerous allegations that he had conflicts of interest throughout his political career. For example, Berlusconi is accused of passing a law that effectively reduced the prison sentence to someone who is accused of economic fraud.
The media houses owned by Berlusconi are also accused of violating the freedom of expression. On the other hand, a recently-aired episode of Last Week Tonight with John Oliver said the channels he owns have been accused of airing "coarse content" and "literally treating women like pieces of meat.
Controversial dealings and ties
Meanwhile, many former members of the Cosa Nostra – the infamous Sicilian Mafia – have also claimed that Berlusconi has ties with the the criminal syndicate. There were also claims that Berlusconi was personally in touch with a top Mafia boss in the 1970s.
And then there are the infamous sex scandals. Most famously, Rubygate. It got its name from Ruby Rubacuori, aka Moroccan dancer Karima El Mahroug, who was revealed in investigations to have been obnly 17 years old – in other words, underage – when she took part in African-style "bunga bunga"arties that have since been described as orgies that had Berlusconi in them.
It also turned out that Berlusconi had in 2010 used his political influence to get Mahroug out of police custody – where she had landed on charges of prostitution. Berlusconi had reportedly claimed to the police back then that Mahroug was apparently related to then Egyptian president Hosni Mubarak.
Berlusconi was in 2013 awarded a seven-year prison sentence by a court of first instance because he had been founbd guilty of paying a then-underage Mahroug $10,000 for sex. However, the conviction and sentence have since been appealed in higher courts.