They are calling it the #MeToo movement of India. And it has been started by a Telugu actress called Sri Reddy who began by first protesting against the inclusion of what she thought was too many North Indian actresses in the Telugu-language film industry – popularly called Tollywood – and then on Saturday, April 7, sat topless outside the Telugu Film Chamber of Commerce in Hyderabad in protest against the casting couch.
For those wondering, casting couch is the alleged practice in film industries where filmmakers and actors are said to exploit aspiring and even established actresses – often sexually – for favours such as giving them starring roles.
While almost all actors and filmmakers – directors and producers – categorically deny the existence of anything called casting couch, Reddy has made some explosive revelations, claiming that not only did one filmmaker proposition her and send her lewd messages over the phone, but a filmmaker's son even forced her to have sex multiple times!
The allegations and the protest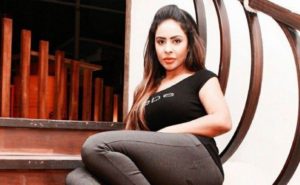 The entire brouhaha started in early March when Rakul Preet Singh, who has been one of the most prominent faces of Tollywood, said at a meeting of the Movie Artists Association (MAA) that neither had she faced any discrimination within the industry, nor did the casting couch exist in Tollywood.
Sri Reddy was one of the two actresses who condemned Rakul Preet's remarks, saying the latter should have spoken the Truth. Sri also said she could make public the names of directors allegedly forcing actresses onto the casting couch. She even said 90 percent of the actresses in Tollywood had been subjected to the casting couch. She also hinted at some big-ticket filmmakers who she claimed were into this practice.
This led a Tollywood director named Sekhar Kammula to threaten legal action against her, because she seemed to be hinting at him. After his threat, she actually came out and accused him of sexual exploitation.
As the storm swirled, Sri took things a step further by staging a protest outside the Telugu Film Chamber of Commerce in Hyderabad on Friday. She arrived at the location in a salwar kameez, but shed them and her inhibitions in front of the camera to sit down wearing just a pair of shorts and her hands covering her modesty.
Who is Sri Reddy?
Sri Reddy is an aspiring actress in Tollywood, the Telugu language film-industry that gave the world the two Baahubali films.
Born in 1983, she has been seen a few films, and is best known for her performance in the 2013 horror film Aravind 2.
She has claimed that filmmakers in Tollywood have a penchant for casting actresses from North India. "For the last 10-15 years, we are only watching North Indian girls as the heroine. Why not Telugu girls? A lot of people are saying that these North Indian girls who are coming from the other states, they will give them sexual favours and all. That's the reason people are showing interest towards these North or other state women. That is the only reason they are getting roles; because they are flexible to everything, and Telugu women are not," she said in an interview with India Today.
Interestingly, actresses like Rakul Preet Singh, Charmy Kaur, Kaajal Aggarwal, Shriya Saran, Hansika Motwani and Baahubali-star Tamannaah Bhatia are all of North-Indian origin, but have made a name for themselves in South Indian cinema, and mostly through Telugu films.
Sri has also claimed that a producer's son sexually exploited her on several occasions. "He used to take me to the studio and he used to f**k me. He is the son of a top producer who is ruling the Telugu film industry. He used to force sex (on me). He would ask me to come to the studio and I said I will go only to talk, not for any sexual act. But after going there, he used to force (me to have) sex," she was quoted as saying by India Today in the aforementioned interview.
She added: "Studios are the safest place to use for sex. Big directors, producers and heroes use studios as brothels. It's like a red-light area. And it is the safest place because no one will come inside; police also will not check, and the government is not taking this as a big issue."
She also said: ""I have faced a lot of problems with directors and producers. They have called me directly for nude video chats and nude photos. They asked me directly and I have sent, I have proofs also. But still, they are not giving us Telugu people chance."