For UPSC first-rank holder Durishetty Anudeep, topping the Civil Services exam was a dream. The achievement, however, was not an easy one to come by. It took the 28-year old Indian Revenue Service Officer five attempts to make it to the top. "This is my fifth attempt. I have failed thrice before, and the journey was not easy for me," said the UPSC topper who comes from Telangana.
Anudeep, an IRS officer (Customs and Central Excise cadre) is posted as an Assistant Commissioner in Hyderabad. He cleared the examination with Anthropology as his optional subject. He started preparing for Union Public Service Commission examination in 2012. Anudeep used to study along with his job and did not take any coaching to prepare for the prestigious examination.
Speaking to CNN-News18, Anudeep said, "The feeling is yet to sink in. I did not expect it. I am grateful to all those who supported me. I was earlier successful in 2013 and got into IRS. Working with Central GST was a great learning experience and challenging. I felt IAS would be a wider responsibility and greater platform to work in."
"I joined Google because of public reach and the impact it has. I learnt a lot. I felt if that gave me such satisfaction, it would be more satisfying to work in public sector. That motivated me for civil services," he said.
"During my training, I visited Singapore and saw closely how they have a model for development. Their education sector is very robust and efficient. We should also ensure that a child not only goes to school but also learns…. I will do my best wherever the government posts me," Anudeep added.
"Since I had a regular job, I did not get much time to study during the weekdays. So I used to make the most of my weekends and study hard," Durishetty Anudeep told NDTV.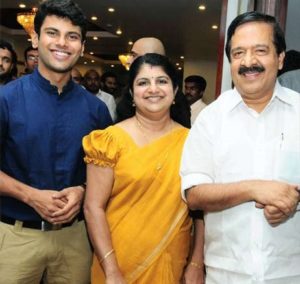 An OBC candidate, Anudeep has graduated with BE (Electronics & Instrumentation) degree from BITS, Pilani. "We are very happy about our son acing the Civil Services 2017," Anudeep's father Manohar said in Karim Nagar in Telangana.
"Anudeep got the IRS in his second attempt. Now he is working as a Commissioner, GST, in Hyderabad," Manohar, who works as an assistant engineer at Mallapur in Jagtial district, said. "We cried a lot when we heard the news over the phone from our son," said Anudeep's mother Jyothi.
Anudeep said that it was a dream come true for him and he was ecstatic. He added that it will take some time to sink in as it was his dream to become an IAS officer since he graduated, as reported by The Indian Express.
Durishetty who hails from Metpally in Telangana's Karimnagar district is the son of retired Additional Assistant Engineer with electricity board of Telangana while his mother is a homemaker. The topper said that his first attempt at cracking civil services was in 2013 which got him the IRS cadre and was appointed as customs and central excise officer. However, he continued trying to pass the IAS service but took a break in 2016 and resumed his preparation for the 2017-18 examination.
Anudeep was a student of BITS Pilani where he bagged a seat in Electronics and Instrumentation in 2011 and has the experience of working as product quality analyst with Google before he cracked civil services examination in October 2014 for the first time. Anudeep qualified the UPSC examination with anthropology as his subject which he described to be close to his heart. He credited all of his success to the hard work of his parents. He said that his father inspired him with his hard work as he too came from a remote village. Anudeep added that his father taught him to persevere life till success is achieved.